Two heads are better than one …
… even if we remain behind the scenes.

Claudia Fischer-Ballia
During my translation and interpreting degree in English and Spanish at the Center for Translation Studies, I supplemented my coursework with regular stays and study trips abroad. I spent a semester abroad studying at Heriot-Watt University in Edinburgh, Scotland, and an additional year abroad as a Fulbright Scholarship recipient teaching at Bard College in Annandale-on-Hudson, New York.
After working for several years as a staff translator in a translation office specializing in legal translations, I launched my career as a private market freelance translator and interpreter in 1999. My preferred areas of specialization include legal, commercial/financial, politics and medicine.
I also regularly interpret for Austrian television: Oscar Awards ceremonies, the Life Ball, the inauguration of US President Joe Biden, the funeral of Queen Elizabeth II or the coronation of King Charles III are only some of my major interpreting assignments to-date.
Ever since I completed my certificate for speech-to-text interpreting from the University of Vienna, I have also worked as a freelance speech-to-text interpreter for educational institutions and event organizers. I prefer to spend my free time playing the saxophone, but I also like attending theater and music performances, as well as going hiking in the mountains.
Martina Flor
I have been a freelance interpreter and translator since 1999. As a translator I have specialized in legal and commercial/financial texts. My interest in these areas was sparked when I worked at a large commercial law firm during my translation studies (English and French). It was an obvious choice for me to combine my interpreting studies with an additional specialty, commercial law.I have been a member for the Committee for Translating since 2019, which I also represent as member of the Board of Directors of the UNIVERSITAS Austria Interpreters' and Translators' Association.
As an interpreter I have worked in an even wider spectrum of areas. In addition to arbitration proceedings and supervisory board meetings, my field of expertise ranges from natural cosmetics and religion to tunnel construction and dentistry.
In 2020 I completed my certificate for speech-to-text interpreting from the University of Vienna, adding an additional qualification to my professional resumé. I support hard-of-hearing students at universities in Vienna and in Switzerland in their studies and provide speech-to-text interpreting services at conferences where I also work between English and German.
My work is particularly enjoyable when I am able to combine it with one of my favorite hobbies, as was the case when I provided speech-to-text interpreting for a number of dance symposia. When I'm not working or dancing, I can usually be found attending concerts, singing in my choir or at the movie theater, often with Claudia, my FF-Translations partner.
Experienced, reliable, expert
We are members of (aiic: currently only Claudia Fischer-Ballia)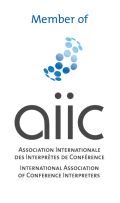 ---
FF-Translations Team
You can reach us at This email address is being protected from spambots. You need JavaScript enabled to view it. or fill out our contact form.